Who doesn't love popping open a piñata at a party? Spoiler alert: nobody!
So why not celebrate life's most important moments with a personal piñata when there's no party to be found?
Customize your Piñata Popper™ to reveal whatever message you want!
What will yours say??
.02
PICK YOUR PIÑATA POPPER™
CUSTOM PIÑATA POPPERS™
Customize your Piñata Popper™ by choosing your custom color palette and custom banner message. Or jazz it up even more with contents like mini balloon confetti or a custom wooden box to hold your fiesta in a box!
Interested in purchasing an order? Fill out the form below and we will follow up with pricing and availability within 24 hours!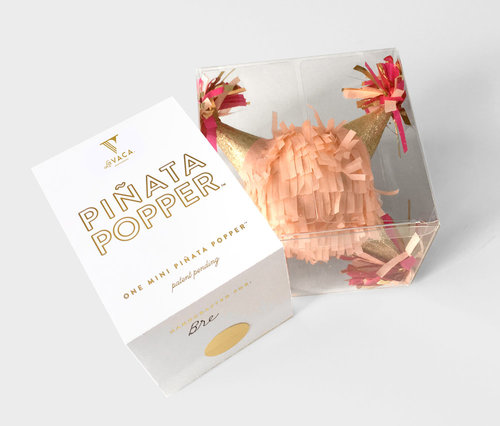 .04
ABOUT THE PIÑATA POPPER™
The Piñata Popper™ is a patent pending creation by Emily Vaca of La Vaca™. Her obsession with piñatas dates back to childhood, when getting her hands dirty with paper mache filled her with true excitement. Years later, Emily created the Piñata Popper™ when planning her own wedding because she wanted to create the most festive way to deliver a very special question to her most favorite ladies... Will You Be My Bridesmaid? And so the Piñata Popper™ was born of fringe and confetti so that any message would feel as exciting as that moment when a piñata breaks open to reveal a very special surprise!